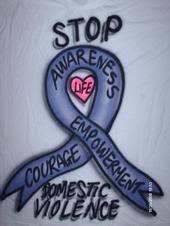 I started the Domestic Violence Project back in August 2011 when I began to collect six-word thoughts on domestic violence (to read about it, click
here
). It was…and still is…my hope to highlight this cause one word at a time.
Although I haven't collected as many responses as I would have liked, we're slowly getting there. Michelle Garrett of Divas With A Purpose helped by hosting a contest where she offered 6 Kindle copies of Zaire's Place, for which I'm grateful.
So, without further ado, here are the responses for the Domestic Violence Project that have been collected thus far. To read my personal story dealing with abuse—"I Remember When"—click
here
.
If you would like to submit your six-word thought on domestic violence, e-mail
tcgalltin@hotmail.com
or info@tcgalltin. Let's put an end to DV one word at a time.
The Domestic Violence Project
Your Thoughts in Six Words
It's easy to fight the vulnerable. ~Monay Gunn
WRONG – regardless of the victim's gender! ~Zoë Davis
Emotional scars last longer than physical. ~Kenneth Weene
Relationships don't give right to abuse. ~Trish Brown
The scars will always be there. ~TC Galltin
Hitting women is a damn shame. ~Jonnelle Galltin-Otero
Friends, don't just ignore it – REACT! ~Michelle Garrett
Wake up: Love shouldn't hurt. ~Maura Alia Badji
He hit me. My soul shattered. ~Dietta Lee
Love should never leave bruised bodies. ~@MrsRKFJ
Prosecute your abuser now not later! ~Ray Leibert Anita
Sorry bandages wounds, leaving heals them.
You are never alone – reach out. ~Jody Cowan
I would like to thank all the people who participated in the DVP so far. If you're a victim of abuse, remember what Jody said, "You are never alone – reach out."