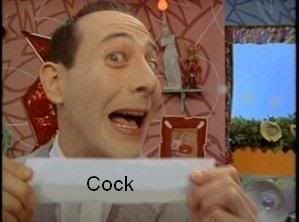 I'm all for self-expression. It's what our country was founded on. But I saw a raunchy Twitter trend that made me shake my head. The #MyDickInThreeWords Twitter trend stood out like a neon sign on a strip mall.
First of all, I'm willing to bet the dude who started the trend was black. Only black men are so attached to their willies. White men have learned to shy away from dick talk because they have been given the "short" end of the stick when it comes to penis size. Since the beginning of time, black men have felt like the rulers of "The Dick World" and think that's all they're good for.
Yes, I know white men engage in dick talk all the time, but they will rarely do it around a brother. The stereotype of black men being well-endowed makes white men feel inferior, and in a world where dick size means a lot, they slink away when the subject comes up.
Brothers, you gon learn today. Being attached to your dick and what you think it can do is ridunkulous. Some of our men think they are dick charmers and can put a spell on a woman like a snake charmer. Yes, sex is good, and when done right, it is very good. Yes, most women have gone crazy over a man, but I'm willing to bet it wasn't only his cock that made her feel those emotions. It was intense like coupled with good sex because she was already feeling you. (Does that make sense? LOL) Your dick should not define your manhood. It should come as an afterthought.
So, I did a search on Twitter just to see what men where saying about their dicks. Most of the people where black men (just like I expected). There were some women having fun with the Twitter trend. I even cracked a smile on some of the tweets. Naturally, one dude who described his penis said "big big big". *Le sigh*
One girl tweeted that her boyfriend's dick was "nobody but hers". Sorry to fool you, sister. Nine times out of ten, you're sharing that dick. Since most black men think that's all they have to offer and that's all they are defined by, they try to rack up women like trophies to prove that their dick is indeed a champion. Brothers, when are you gonna learn?
How about measuring yourself against success? How about measuring yourself against how well you take care of the kids that you spawned with your dick? How about measuring yourself against what you do in your community? I don't need to go on. You get my drift.
Yes, good dick is good, but when you get up out of the bed, good dick doesn't mean a thing. A woman can't bottle it and take it with her. So, men, leave ya'll dicks alone and start talking about something more important!
Wow, how many times did I say "dick" in this blog post? That's enough dick to last a lifetime. LOL
I'm out people. Have a thoroughly thoughtful Thursday. "Measure" yourself by a new rule.