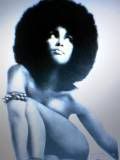 I'm a little pissed off right now. I've been hearing all kinds of stuff about JoAnn Robertson, the licensed hairstylist who provided tutorials for natural hair care on Tyra Banks' Type F website. There is so much backlash among black women for the way Robertson's natural hair looks that I just had to jump into the "hair pool" and put my two cents in.
Many people are saying her hair looks a mess and are dogging her big-time. While I can admit her edges are a little thin around the hairline, I think there's more to the backlash against her than the condition of her edges.

So many black women are up in arms saying things like "Where is she going looking like this?" and "OMG, she can't possibly be a hair stylist!" It makes me wonder if the backlash is more about her hair texture than the fact that she dry-combed her natural hair in the tutorial and "doesn't have good hair care practices" as some people are saying. If JoAnne had been a lighter-skinned woman with a less kinky fro, would there have been no backlash at all?
As a woman who recently revealed my natural hair, I'm appalled. For natural hair to look "good," must it be in dreadlocks or in a braided style, i.e. up up and away so no one can see it if it's "too coarse?" If you listen to all the black women who are up in arms, you would think so. Many of these women have weaves and I'm willing to bet their hair is more damaged than JoAnn's underneath their "masks."
My hair is nappy as all get-out. Yeah, I said it. Recently, someone asked me, "What are you going to do with it?"…as if I HAVE to do something with my nappy hair because it is offensive. Um, I don't think so. Yes, I have hair issues, but I refuse to make the coarseness of my hair one of them.
People are focusing on how JoAnne's natural hair looked and saying that she should be ashamed to call herself a stylist. Besides the less-than-perfect edges, I would love to have my natural hair be as thick and long as JoAnne's. I think a lot of black women are lashing out at JoAnne because of the texture of her hair. It's self-hatred at its finest and until we get over this shit and embrace our natural hair (no matter what texture it is), this type of backlash against coarse hair will continue. India Arie said it best: "I am not my hair."