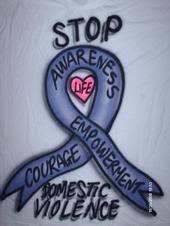 One in four women will be a victim of domestic violence in her lifetime.
I am the "one in four."
When I was nineteen, a boyfriend violently attacked me one night and it changed my psyche forever. Yes, I did leave him after the incident, but it was only because someone intervened and told me, "If they do it to you once, they will do it again." As time went on, I managed to put the incident behind me, but I still bore the scars. When a future beau and I would get into an argument and his voice got loud, I immediately would think, "Is he going to hit me?" That fear stayed with me for years as I traveled from one boyfriend to the next. Thank God it hasn't happened again, but those scars never heal.
In 2009, I wrote Zaire's Place about three women whose lives converge at a domestic violence shelter in Baltimore, Maryland. Zaire's Place will be published very soon and I'm counting down the days. To find out more about my novel, click here.
I am a staunch advocate in the fight against domestic violence. I just started the Domestic Violence Project in which I am collecting six-word responses on what people think about domestic violence.
I got the idea for the Domestic Violence Project from Michele Norris, the creator of the Race Card Project. She collected six-word "essays" about race in America from people all over the country. It is my hope that I will build upon the Domestic Violence Project to start a conversation about this pervasive subject all across the country.
So far, I have collected five responses (in addition to mine). Hey, you have to start somewhere. I'm thankful to those who have contributed to my project thus far. May we keep the conversation going to combat this disease.
Of course, I'll be providing you with updates on the Domestic Violence Project as time goes on. To submit your response, please send an e-mail to tcgalltin@hotmail.com or leave it in the comment section.
The Domestic Violence Project
Your Thoughts in Six Words
Hitting women is a damn shame. ~Jonnelle Galltin-Otero
It's easy to fight the vulnerable. ~Monay Gunn
WRONG – regardless of the victim's gender! ~Zoë Davis
Emotional scars last longer than physical. ~Kenneth Weene
Relationships don't give right to abuse. ~Trish Brown
The scars will always be there. ~TC Galltin